Hello! I am now married.
Hehehe would love to write a proper post but urghh, been so busy! Back to teaching, what else? So here's my wedding in short! Cant even show you the official wedding pictures because they are not ready yet. Forgive me! 😀
SOLEMNIZATION
Friday, 16 December 2005

My custom made in house dais by Don from Wedding Regalia!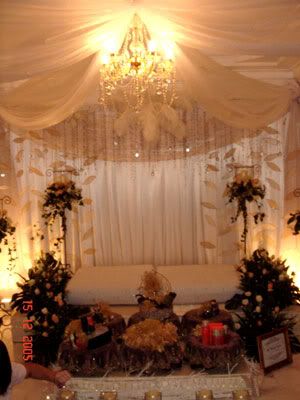 The row of gifts waiting to be exchanged
Tatek waiting anxiously to be my husband (haha!)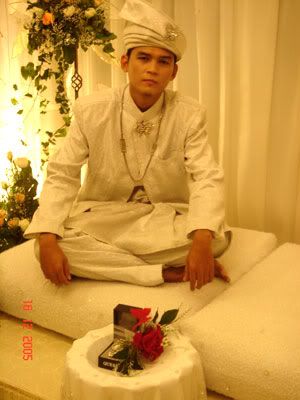 Our kadi, Ustaz Hassan Salim
Officially husband and wife. Awww.
My family and his new family.

Trying so hard to act like a shy bride. I failed obviously.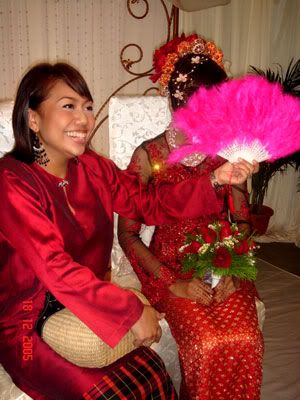 My brother Ian, my uncle Pak Nasir and the rest of the gang desperate for their green packets.

Up went Hidayat. Down went Hidayah the makeup artist.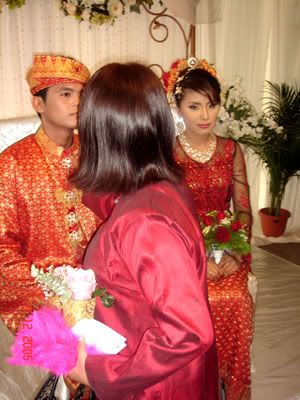 My darling cousins. Natalia was my bridesmaid. Natasha was the pianist.
Unfortunately, Natasha did not play the piano but the organ during my sanding.

Thank you Natasha for playing the wedding march, My heart will go on, and I believe I can fly. It was really lovely. Oh let me promote her a bit. Natasha can play the piano really well, like a pro. She is only 10 years old but is in Grade 6 already. In fact, she has recently received an invitation to play the piano for an upcoming wedding reception at a hotel. Yup, so proud of my cousin!
WEDDING RECEPTION
Sunday, 18 December 2005
A very entertaining tarian kuda kepang by Khaizan.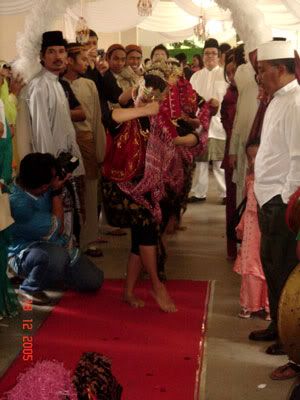 Our view of our wedding. It was pretty overwhelming, you know?
Us with my parents in law.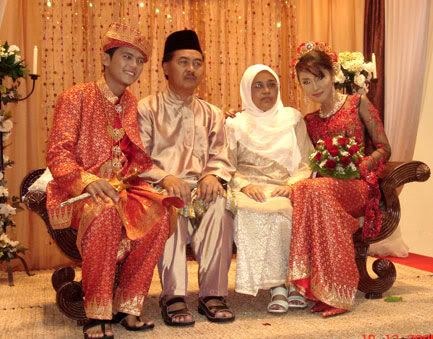 I love him. I love her.
Me and my best friend!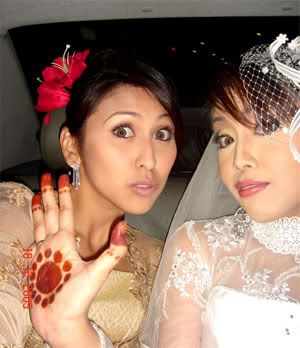 My dear family.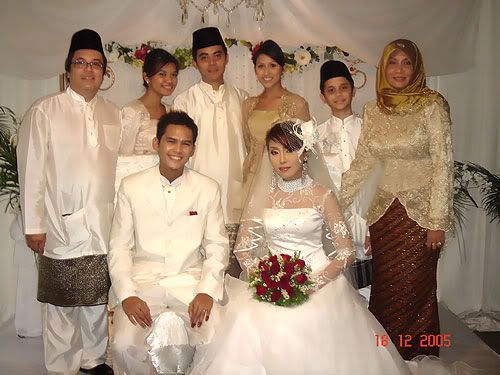 That's it for now. Bottomline is, Selamat Pengantin Baru to us.
Time to say thank you the following people for making my dreams come true…
Makeup-Zulradi and Hidayah Kamisan from Zulradi Bridal.
In house dais – Don from My Wedding Regalia
Dulang Hantaran-Hafizah from M's Touch
White Deco-Kak Norita from Khaj Wedding Deco
Bridal room-Diah & Nurul
Food-Fazana Catering
Kompang/Kuda kepang-Khaizan
Photography-Nizam from Theme Photography
Videography-Shah from Image and Vision Productions
Entertainment-Azman from Entertainment Network.
Thank you everybody for making this possible.
Alhamdullilah. So this is marriage life.
Maybe baby? 😀