Happy Birthday to Me
Happy Birthday to Me
Happy Birthday to Diahhhh
Happy Birthday to Me
How old am I now?
How old am I now?
How old am I nowwwww?
How old am I now?
I AM 25 LAH!
And so far I am loving it.
To my dear Xinmin Pri, thank you for making me feel so much at home. Thank you for the very early birthday wish broadcasted all over the school's televisions. (I felt like a superstar.) Thank you big boss for the lovely birthday card. Thank you my last year's girls for the VERY NICE drawings and birthday wishes. (and for still calling me MISS Diah. I felt young all over again!) Thank you Sock Hui and Wen Chin for the lovely card and birthday gifts. Thank you colleagues for the birthday wishes. Thank you my dear P1 angels for clapping and cheering for me upon knowing that it is my birthday today.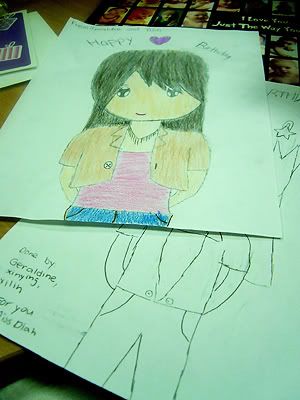 Now, let's see what my darling hubby, family and Nurul have in store for me later today. I can't wait! I will keep you updated, not to worry. I know you want to know. I like kepochis because I am one too. Hi five, you!
For now, I have to get the markings over and done with.
I am looking more and more like a second-hand History textbook as a result of all the marking of books.
Hmppff! This cannot be.
HOW OLD AM I AGAIN?