So here we go. The long, long time ago overdue birthday entry. Not that I did not want to update you, but heck I have been very, very busy. And cranky. Nobody loves a cranky entry.
But everybody loves Raymond! 
Anyway…

Today, we had a mock Math test to basically let my P1 kids have a feel of what it is really like to take a test before they take their first ever topical assessment paper tomorrow. I read all the instructions for them. I read the questions too. Then, I explained in layman terms what REALLY they were supposed to do. Believe me, I do have some pupils in my class who cannot read, cannot read, CANNOT READ. And these pupils who cannot read, cannot read, CANNOT READ are quite good in their Maths when properly guided, and quite lost when not guided at all. I decided that they should be good, and not lost for today's and tomorrow's test. Hence, the guided mock test today. 🙂
At first, I presumed they would have no trouble attempting the paper since I was guiding them and practically providing them with the answers! But when I checked their papers, I choked. I screamed. I pulled my hair. I lost control of my voice, my temper, and basically my whole self. I did not know that the MCQ section was really a hurdle for most of them. Instead of writing the option number, they wrote the answer in the bracket given lah! So instead of just seeing either 1, 2, 3 or 4 in the brackets, I saw funny numbers like 5, 6, 7 , 8, 9, 10 and even 0. Some of them even drew apples in the brackets! :S I spent one whole period explaining to them how exactly to complete the MCQ section of the paper. I thought they would be alright after that but again I was wrong. Some of them still insist on putting the funny numbers in the brackets. Haha! KIDS.
Oh well, I know they will get it eventually.
They will recover from their FUNNY numbers syndrome. 
😮
Moving on. Just two days ago, I had invited Nurul to my class. For my English lesson on 'Friends'. Prior to that lesson, we had made a friendship card to one special friend. I made one card for Nurul as well. And I figured the only way I could make my lesson as authentic as possible was to invite Nurul to my lesson just so that I could present to her the card in the presence of my pupils. I did just that before inviting my pupils to read and present their cards to their friends. They were really entertained by Nurul besides being mesmerized by her beauty. Who is not mesmerized by her natural beauty, tell me? I have been friends with her for over five years already, and dare I say it, I am still mesmerized by her presence. :S
Here's Nurul sharing stories about our most treasured friendship with my kids.
Nurul again with the card I made just for her.
One of my kids reading out his card to the whole class. They love using the microphone so much!
Two of my kids with the friendship cards. Cute, macam muka dorang jugak. 😮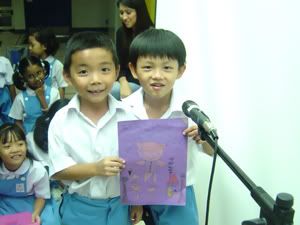 Oh, we even had a Q and A session where I allowed my pupils to ask Nurul anything and everything they would like with regards to her friendship with me. Questions they asked her?
Why you friend Mdm Diah? 
You love Mdm Diah or not?
And the questions became more and more ridiculous!!
Why your nose so small one ah? 
Why Mdm Diah like to take picture? 
You kiss Mdm Diah before or not? 
Why your shoes so sharp one? 
Why Mdm Diah likes to wear big earrings one? 
Mdm Diah has money or not? 
You have money or not? 
You have money or not? (Again!!!) 
Heh.
Anyway.
My birthday entry.
Thank you my family, my hubby, my Nurul, my friends, and my pupils for making my 25th birthday an affair worth remembering for as long as I can remember.I did enjoy myself. A lot. Everyone was so sweet. Sweet was everyone. Even though we practically celebrated my birthday on the midnight of 26th Feb instead of on the midnight of 25th Feb, I did not mind at all. Even though we cut my cake 15 mins to the midnight of 26th Feb, I did not mind. Even though we went to JB right after the cake cutting ceremony to have the proper birthday celebration at our favourite eating spot, I did not mind it at all too. Really, I did not mind it. However, I am just trying to request for a change of birth date from 25th Feb to 26th Feb starting from next year on. :S
So anyway. Let's move on to the best part of any birthday entry.
The gifts.
The family, hubby, Nurul and even the maid made me a very long card. Maybe the longest birthday card ever to be made. Guinness Book of Records, anyone? Malay Book of Records also can. 😮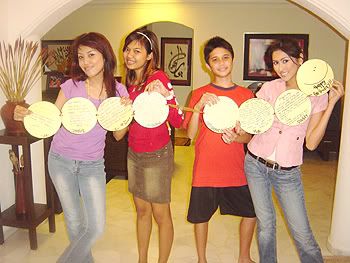 The favourite birthday cake, Emicakes. Thank you hubby. 
The present from the hubby as well. For this year's Hari Raya, possibly. 🙂 Thank you dear Tatek, once again.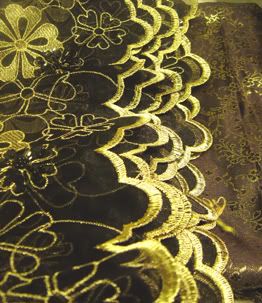 The numbered gifts. The 25 numbered gifts. From the best friend, Nurul. I had a hard time trying to guess what they were. Yes, I had to guess correctly before I could open each gift. I could not risk guessing wrongly as a wrong guess would mean a free gift for Ili, the official gift stealer. Heh.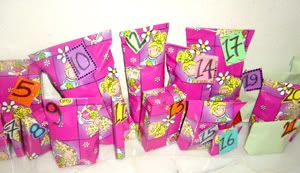 So that's it? I am 25 already? Just like that?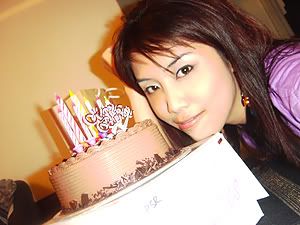 Happy turning 25, dear me.