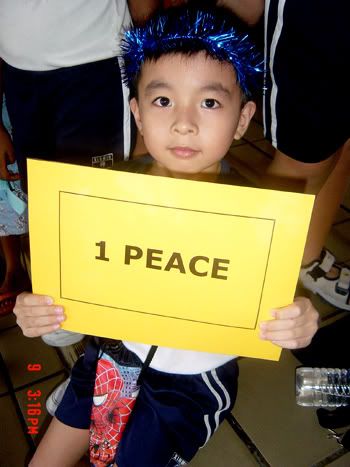 I have really grown so much as a teacher with my current class, 1 Peace. Along with that, I've seen them blossom from thirty kids as a whole into thirty unique individuals. Truly I am blessed to have been given this class of angels this year, and I am again blessed to be able to follow up with them next year, right after my maternity leave. Dare I say it, I couldn't have been given a better class than this. Honestly!
That said, the last two weeks of school was a delight, no matter how busy we all were. It was almost as if I didn't want the last day of school to approach. Almost, but I ended up heaving a great sigh of relief on the last day of school! Hehehe.
During the second last week of school, all the Primary 1 pupils had their swimming carnival. We even had a cheering competition, just so that the non-participants would not feel left out and bored rigid.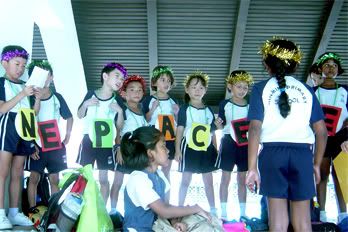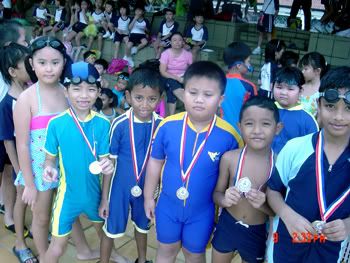 During the last week of school, we had our 'Stand and Deliver' performance, where Primary 1 and 2 pupils were given the opportunity to showcase their speech and drama skills.
My class did 'Go Home, Goldie', an adaptation of 'Goldilocks and the Three Bears'. And I had prepared these beforehand.
Look at them cheeky faces on the actual day of the performance.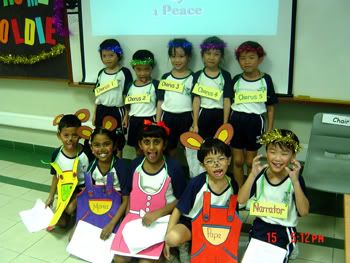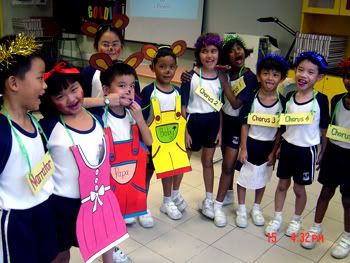 Good job, 1 Peace! I am really proud of all of you.
Goodbye for now, kiddos. I will miss you but I promise to be back next year, ok?
That hot seat of mine wouldn't be left unoccupied for long.